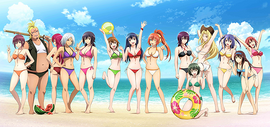 Sekai de Ichiban Tsuyoku Naritai! characters.
Blue Panther
Chinatsu Suzumoto
Hornet
Kaichou
Kurea Komiyama
Makoto Kirishima
Moe Fukuoka
Rio Kazama
Ryou Nishihara
Seiichi Inoba
Toujou Jackall
Yamamoto Yumb
Yoshiko
Ad blocker interference detected!
Wikia is a free-to-use site that makes money from advertising. We have a modified experience for viewers using ad blockers

Wikia is not accessible if you've made further modifications. Remove the custom ad blocker rule(s) and the page will load as expected.